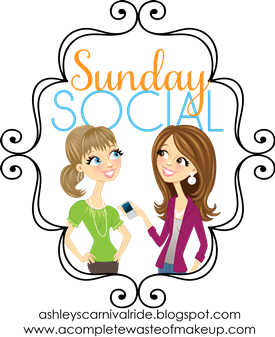 It's Sunday Social Time. Every Sunday Ashley over at Ashley's Carnival Ride hosts the Sunday Social. It's a serious of questions for you to answer and then link up to meet other bloggers and get to know them. These week is a getting to know you week where you introduce your blog. I figured this was a great way to get started on this blog hop. Feel free to link for for this week or get started on next week's question posted below.
1. What is the name of your blog? How long have you been blogging?
The name of my blog is Mom's Don't Say That. I have been blogging on that site since September 2012. I've done some personal blogging off and on since the days of Myspace. I started getting more into blogging with in the last year or so.
2. Why do you blog?
I blog as a way to vent about what's going on in my life, to document my pregnancy for family across the country, and to help others with some tips I have learned along the way.
3. What is the first blog you ever followed?
The first blog I ever followed was Jen Lancaster's blog Jennsylvania. She is my favorite author and her blog cracks me up.
4. What is your favorite post you wrote in 2012?
I think it would have to be my Baby Daddy Story. It's the story of how Kel and I started dating. It's cute and funny and pretty much sums up our relationship.
5. What are your blogging goals for 2013?
I would like to increase my number of followers, do more product reviews (I'll be a first time mom, who better to review your baby products?), and monetize my blog. It would be nice to make some money on the side. Regardless, I love writing and will continue to do so whether it's for fun or for fun and profit.
6. Name your top 3 favorite blogs.
I have to pick only three?!?!?!?!
Adventures in Domesticland
Something Clever 2.0
Naptime Tales
So take a minute and answer this week's questions and click the image to link up or get a head start on next week's questions.

These are all about 3s!
1. Top 3 favorite kinds of food
2. First 3 things you do in the morning
3. Last 3 things you do at night
4. 3 TV shows you NEVER miss
5. 3 places you want to visit
6. 3 people you can always count on