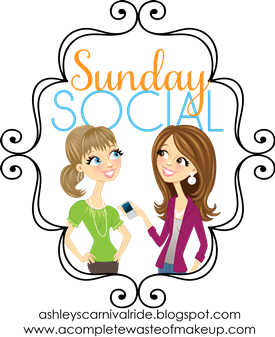 It's Sunday and that means it's time for another Sunday Social. Sunday Social is a blog hop hosted by Ashley over at Ashley Lately Head over there and link up or get started on next week's questions. It's a great way to learn about and get to know other bloggers out there.
1. If you were stuck on an island what are the two material items you would want to have?
I think the two possessions I would like to have with me would be a pillow (I could sleep anywhere if I just had a pillow) and one change of clothes. I could get used to swapping out two sets of clothes if absolutely necessary
2. What are two TV shows you'd watch over and over?
I watch Law & Order over and over as well as anything on the food network. Never gets old to me
3. If your house was on fire what two things aside from family, pets, etc would you grab?
I would grab my Ipad (it's slowly starting to store my life on it) and any pictures or photo albums I could grab.
4. What are your two most favorite articles of clothing?
Right now, being 9 months pregnant, my maternity yoga pants because they fall under my belly, and my long sleeve hooded but light weight maternity shirts
5. What two movies that you saw in the past year would you recommend to us?
Wreck it Ralph was super cute and The Dark Knight Rises because…Batman
6. What are your two biggest guilty pleasures?
America's Next Top Model reruns and Stove Top Stuffing….
So there's a little bit about me for this week. Hope you can join us. Make sure you leave a comment that you stopped by from Sunday Social so I can be sure to follow you! It's Super Bowl Sunday so it may take me a minute to get back to you.
Here are next week's questions so you can get a head start! (I might have to strain really hard to remember some of these)
1. What was your first car?
2. Who was your favorite childhood teacher?
3. Were you involved in any sports/extracurricular activities? Share pictures if you can!
4. What was your favorite birthday party?
5. Who was your teen celebrity crush?
6. What show/movie did your parents not allow you to watch?